Faucetshowerguide.com is reader-supported. We select all the products after considerable research and give unbiased reviews to the readers. We may receive commissions from purchases made via our links at no additional costs to you.
In the kitchen and bathroom, the reason for any kind of buildup on the sink is the mineral present in the water. If you are using a porcelain sink then these marks are more visible on it. People use a porcelain sink in the kitchen because it is beautiful in appearance due to its glossy finish.
A sink is a place in the kitchen which is always wet with water, due to which the chances of hard watermarks are more on it. Although it is easy to clean due to the glossy finish of the porcelain sink, it is not possible to clean it every time you use water in the sink.
If you are searching for how to remove hard water stains from a porcelain sink then you are at the right place. In this article, we have shown 11 proven ways to remove hard water stains from the sink. These methods are applicable to the faucet, toilet, etc.
Why Do Hard Water Stains Build on Porcelain Sink?
Hard water is not only harmful to porcelain sinks but also harmful to other items like toilets, bathroom tiles, faucets, bathroom floors. Due to hard water and stains and buildups are made on all these things.
Minerals that are present in hard water make it separate from normal water. Minerals present in hard water are the reason for its hardness. Due to these minerals, foam is not formed for washing clothes in hard water, and utensils are also not washed properly.
Mainly two minerals are found in large quantities of calcium and magnesium. After washing dishes when we don't clean the sink properly then hard water droplets stick on its surface and do not evaporate quickly. So the minerals found in hard water form buildup on the sink and with time it become thicker.
11 Proven Ways to Remove Hard Water Stains
Cleaning the hard water stains is not a very difficult task, by using the methods given below, you can easily clean the stain of hard water on the sink and tap.
1. Use of Normal Cleaner
There are some things in our house that we can use as a normal cleaner like lemon juice, baking soda, and vinegar. Maybe the sink is cleared of these things and you don't need anything else.
To clean with Vinegar, you can use a mixture of vinegar and water.
For this, we have to take 2/3 part of water and 1/3 part of vinegar, mix it well.
Now put this mixture where there is a mark of hard water and leave it for a few minutes.
With the help of a sponge, clean the area where the vinegar is applied by rubbing it thoroughly
Now wash the porcelain sink with clean water and clean it with a dry cloth.
2. Use of Bleach
Another product that can be used to remove hard water stains from porcelain sinks is bleach. Bleach is good only on white color ink. Bleach is an acidic product so when you use any colorful sink then it removes the color of the sink.
The right way to use bleach on the sink –
First, Put the bleach on the sink.
Cover the sink with a paper towel.
Leave it to dry for a few hours.
When the bleach is dry, remove the paper towel and clean the area thoroughly with a sponge.
Once again, I tell you, do not use bleach in a colorful sink use it only with a white porcelain sink.
3. Use of Hydrogen Peroxide
If you have a colorful sink and you cannot use bleach, then you must be wondering what you should use for cleaning? The answer is hydrogen peroxide.
Although it works slower than other cleaning agents, it removes all types of stains from the porcelain sink.
The way to use it is the same as bleach.
Take a paper towel and saturate it with hydrogen peroxide.
Now cover the sink with this towel, then remove it for 30 minutes.
Clean the sink thoroughly with clean water.
4. Baking Soda
Almost in all houses baking soda is found. It is also used to clean the sink. It not only removes hard water stains but also removes other minor marks.
Baking soda can be used with hot water. Mixing the two, apply it to the sink, grind the place for a while with a sponge. Finally wash with water, clean the place with a dry cloth.
5. Combination of Baking Soda and Vinegar
In 3 steps you can remove hard water stains from any place using baking soda and vinegar.
Mix well both and create a paste.
Now put the paste on the buildup of hard water and keep it 15 minutes on stains.
After 15 minutes wipe it with water and clean the sink properly.
6. Use of Lemon Juice
It is a very simple and safe process to remove spots. Using the lemon does not harm the color of the sink, but older spots cannot be removed from the lemon.
Lemon is used with salt. Make a mixture of salt and lemon and put it on the sink and then rub it for a while with a sponge and clean it with water. Keep repeating this process until the spots are removed.
7. Tartar and Vinegar
Another good combination of cleaning agents for porcelain sink cleaner.
Take an equal part of both cleaning agents and mix well.
Take a sponge and put it in the mixture and then rub it on the surface of the sink.
Rub it for minutes and then let it settle for few minutes and then clean it with water.
8. Tartar and Hydrogen Peroxide
Tartar can be used with hydrogen peroxide to remove stains from porcelain sinks. Process of using it the same as tartar and vinegar, mix both in the same quantity and rub it with a sponge on the sink and clean it with water.
9. Pumice Stone
If you don't know what is pumice stone, it is made of a volcano. Pumice stone is formed by pieces of rock. It is advised to use it only on the buildup of hard water not on stains because there are chances that its high use can harm the porcelain sink.
10. Use Abrasives
This is not a safe option so keep it as the last option. Abrasive can damage the surface of the porcelain sink so before choosing any abrasive read all the detail about it and be sure that this is not harmful to the porcelain sink.
11. Polish Porcelain
When you remove the stains from the sink and the sink starts glowing well, then apply oil on it so that the water will stick less on it. Which will reduce the chances of getting spots and stains? The polished faucet will also look new.
5 Best Faucet For Hard Water
Final Words
Hard water is not good for any surface. Due to its minerals, it makes the surface dull and makes stains on it. In this article, we have covered all the methods to remove hard water stains from porcelain sinks and faucets. Some methods are easy to use but, in a few methods, you should take care of sink color. After using these methods your porcelain sink will definitely shine like a new sink.
Check Related Articles –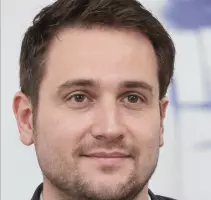 Hi, I am Ralph Matthews. I have been doing plumbing work for the last 20 years. I have created FaucetShowerGuide blog to share my plumbing experience with people. My main moto to create FaucetShowerGuide blog is to give the right guidance to my reader so they can select the best faucet and other products for the kitchen and bathroom.