Do Black Faucets Get Water Stains?
Disclosure: Faucetshowerguide.com is reader-supported. We may receive commissions from purchases made via our links at no additional costs to you.
Undoubtedly, stainless steel is the most used material for faucets. For people who want to give a unique touch to their kitchen or bathroom interior, black faucets surely add visual interest to any interior. Black faucets mix well with a modern, monochrome look, or traditional design.
With their look, they create a sophisticated look. Whether you are redesigning the kitchen or bathroom interior or creating a new one, a black faucet is a good choice to make your interior different from other ones.
But water stains are an issue for faucets. Do black faucets get water stains? Keep reading to know more about whether water stains are visible on black faucets or not.
On Sale
Moen Black One Handle Kitchen Faucet
Bold design, More powerful spray, Convenient to use, Easy to install, Lifetime warranty
Are Black Faucets Good?
Black faucets are a good option for the kitchen or bathroom if you want to give a unique touch. It punches up the interior.
It gives a contrasting look with stainless steel or chrome appliances. Grease and grime are easy to clean from the dark finish in comparison to chrome or stainless steel. Black faucets are definitely a stylish addition to your kitchen provided you clean it regularly.
Black faucets come in a variety of designs and styles. Touchless, pull-down, and pull-out all options are available for black faucets.
After years of ruing by chrome, black is the new trend. Black faucets add eye candy to any interior. Their sleek and contemporary look is good.
Do Black Faucets Get Water Stains?
Black faucets are an attractive choice for the kitchen and bathroom. Some people prefer black color over other colors due to its unique aesthetic.
Black faucets are preferred by those people who want a distinctive and stylish look. Black will always remain in trend due to its ability to show off. It easily coordinates with other colors.
But do black faucets get water stains? The simple answer is yes.
Not only black, but all faucets also get water stains and it is common due to the minerals of water. Stains on chrome and stainless-steel finishes are not clearly visible. But the black finish is dark in shade and stains are normally in off-white. So, stains are clearly visible on black faucets.
Are Black Faucets Hard To Keep Clean?
When you choose a faucet, there are many things to consider but aesthetics is one of the main considerations.
Black has become a popular consideration for the faucet finish. Sharp black faucets look beautiful against the white countertop.
Black faucets are not hard to keep clean. But if you don't clean them regularly, stains will be visible on them. The black color easily highlights stains. With stains, you will clearly see dirt, dust, and water drops on them.
When black faucets are clean, their shine looks fresh. You have to maintain its shine. If you can't clean black faucets regularly, don't buy them.
How To Clean Water Stains From Black Faucets?
If your black faucet is now dingy and stained, it's time to remove hard water stains from it to give it a shiny look to the faucet.
Clean Stains With Vinegar
Vinegar is a safe and natural cleaner to remove hard water stains from black faucets.
Take some vinegar into a spray bottle and squirt it on the surface where you see water stains.
Let's give time to vinegar to do its work. Let it leave for an hour.
Vinegar works on stains and breaks down it. So, it becomes easy to clean stains.
If stains are not gone fully, spray more vinegar and follow the same steps.
Clean Stains With Baking Soda
Water stains on black faucets are not good. They damage the finish of the faucet. Minerals in the hard water leave behind residues that make the black finish dull and fade.
A mixture of baking soda and water is useful to remove stains from the black faucet. This mixture needs some time to remove stains. Leave the mixture for an hour and let it do its work.
Use a toothbrush to scrub the mixture from the black faucet body. Gently scrub the toothbrush on the faucet surface and at last clean it with water.
Clean Stains With Lemon Juice
Lemon juice has an acidic property so it is a good cleaner to remove water stains. Use lemon juice without water. Without water, it will be at its full strength.
Cut the lemon in half and rub its pieces on the faucet body. You can rub it on the whole body or only those parts where stains are visible. Rub on the full body so if there are any invisible stains on the faucet, will be cleaned up.
If stains are big, you may secure lemon pieces on stains. So, lemon juice will work properly. After 15 minutes, use a microfiber cloth to remove juice from the faucet and clean the faucet with water.
Are Black Faucets In Trend?
Nothing remains in trend forever. People's choices change with time. But it doesn't mean black will be out of trend.
Black is a neutral color. So, it mixes well with different design trends. The black finish won't go out of style but the type of fixtures may be. Earlier simple black faucets were in trend but no black touchless faucets are in trend. Specific style may go out, not color.
If you want a black faucet that will stand the test of time, choose a black faucet that has a simple line pattern with minimal details. The more stylish faucets look untrendy after some time.
How Do I Prevent Water Spots on My Black Faucet?
Water spots on black faucets are not liked by anyone. But with some tips, you can prevent water spots on the faucet.
Don't give any chance to build residue on the faucet. Keep the faucet surface dry and free from moisture.
The faucet comes in contact with water every day, so clean its body as many times as possible.
When it comes to keeping the black faucet free from stains, regular cleaning is important.
If you don't clean the faucet regularly, with time hard water stains become worsen, and in the end, it will become difficult to remove them.
Use a water softener to remove minerals from the water. No minerals mean no water stains.
Clean the faucet with vinegar or any other cleaners once a month.
Use a hard water sink faucet to prevent buildup.
Can You Put Black Faucet on Stainless Steel Sink?
A faucet is a permanent appliance in the kitchen that is visible to anyone in the kitchen. When the faucet is ideally paired with a sink, it leaves a lasting impression on viewers.
Most sinks have stainless steel finish. Black faucets stand out and create a contrasting look with stainless steel sinks. Black faucets with stainless steel sinks look harmonious. It perfectly matches the sink.
Conclusion
In the end, it is cleared like other faucets, black faucets also get water stains. But these stains are not permanent. With the right cleaning method, you can remove water stains from black faucets. Just try to keep the faucet clean and dry, so that any water stains won't occur on it.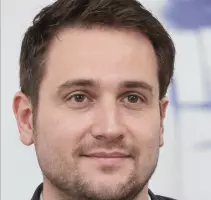 Meet Ralph Matthews, father of 2 cute daughters and a skilled plumber with over 10 years of experience in the industry. Ralph has particular expertise in repairing any type of faucet and has helped countless homeowners and businesses solve their plumbing problems with his expert knowledge and attention to detail.