Faucetshowerguide.com is reader-supported. We select all the products after considerable research and give unbiased reviews to the readers. We may receive commissions from purchases made via our links at no additional costs to you.
If you don't know what is a pre-rinse kitchen faucet and whether you should use it or not, don't worry here we are to clear all your doubts about pre-rinse faucets.
Pre-rinse kitchen faucets provide excellent performance. Along with performance, their spiral hose gives a professional touch to the kitchen. Pre-rinse faucets are for those who want a high-pressure functional faucet for their home kitchen. In the restaurant, these types of faucets are widely used.
Pre-rinse faucets are ideal to complete daily washing tasks easily and give a commercial touch to the kitchen sink. But there are some considerations that you should have known like their higher price make them out of reach of many people.
What Is a Pre-Rinse Kitchen Faucet?
Maybe you have never seen a pre-rinse kitchen faucet and thinking about how it looks. You can easily identify it by sight alone.
The first, thing you will notice, it will have a flexible spring hose. It has a high arc spout. At the end of the spiral hose, you will have an integral sprayer.
Its flexible hose can be pulled into the sink so most pre-rinse faucets are considered pull-down faucets. Due to the flexibility of the spring hose, it works like a modern pull-down kitchen faucet. You can pull the sprayer in any direction in the sink.
Spring works as a docking system. When you are not using a sprayer, the spring keeps it in a safe place. Spring is rigid enough so over time it won't loosen.
You rarely see a dual handle pre-rinse faucet. Pre-rinse kitchen sink faucets are used to complete washing work quickly so mostly pre-rinse comes with a single handle design. Through a single handle, you can control water temperature and flow. Easily set hot and cold water flow.
Due to the single handle design, for the installation, you need only a single hole. It makes the installation process easy.
The best thing about pre-rinse faucets is they are designed to do heavy tasks easily. They are durable and perform longer than your standard kitchen faucet.
What To Look When Buying a Pre-Rinse Kitchen Faucet?
Durability
Since these faucets are made for heavy use so they should be built with durable material. Generally, Pre-rise faucets are more durable than regular kitchen faucets. Some brands offer pre-rinse faucets at a lower price but they aren't durable and you will need to change them within 2-3 years.
Don't buy a pre-rinse faucet that has plastic parts. Instead of plastic choose solid material like brass for the faucet.
Brass increases dependability and durability. The brass body is safe from rust and corrosion. You may also choose stainless steel for the faucet. Both materials are strong enough to give durability to the faucet.
Handles
The selection of handles depends on your requirement and choice. Most people prefer single-handle pre-rinse faucets due to their easy-to-use design.
If you need a double handle design, you can choose it. But there is a limited number of double handle pre-rinse faucets available.
Nowadays hands-free pre-rinse kitchen faucets are in the fashion. People prefer these faucets because of their simplicity.
Size
Most pre-rinse faucets are tall in the size. When you pick one of them for you keep in mind whether they fit on your kitchen sink or not.
A taller faucet won't work well with the small sink and creates splashes around the sink.
Because they are tall so you can easily fit large pots underneath them. If there is a cabinet over the sink, the tall size of the faucet may be impropriated. For smaller spaces tall size looks overwhelming. So, check the size before you buy any pre-rinse faucet.
Finish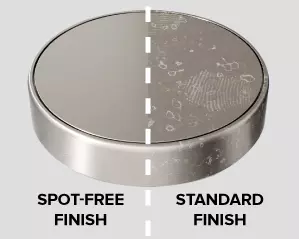 When you buy a pre-rinse kitchen faucet, you have to make sure that you pick the right finish. If you choose the wrong finish, you will see water spots and stains on the kitchen sink faucet.
There are different finishes available for the pre-rinse faucet but brushed nickel and stainless-steel finishes are widely favorite of most people. Choose a spot-resistant finish so cleaning the faucet becomes easy.
When you select a finish for the faucet, you should match it with other appliances in the kitchen. A faucet is a central attraction on the countertop so the right finish enhances its presence.
Mount
Deck mount, wall mount, and top mount are different mounting options for the pre-rinse kitchen faucet. The deck mount is widely used. The deck mount is easy to install and you can install it on the sink edge.
Wall-mount installation is good for those who need to fill heavy pots daily. For the restaurant kitchen, wall mount installation is good. But to install a faucet on the wall, you need to call a plumber.
Water Flow Rate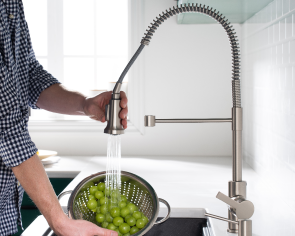 Generally, pre-rinse faucets have a high water flow rate. A higher flow rate is always good to clean dishes but it uses more water. If you are picking a pre-rinse faucet for home use, go with a 1.8 GPM water flow rate.
A higher water rate is not eco-friendly and it also increases your water bill. To conserve water, the company uses an aerator at the faucet spout.
Rotation
Spout rotation is possible to cover more area in the sink. Most pre-rinse faucets rotate 360-degree but there is some model that rotates only 180-degree or less.
Maximum rotation is essential for convenient use of the faucet. For a big-size sink or dual sink, a faucet with 360-degree rotation is important.
Installation
No one wants to waste time on the installation. Nowadays most pre-rinse kitchen faucets are coming with an instant connect feature. They have a straightforward installation process. So, the faucet installation becomes a DIY task.
Warranty
The price of the pre-rinse kitchen faucet is high so you should not compromise with the warranty. You are going to spend a big amount so check how long the warranty you are getting.
Warranty saves your repairing cost. When the faucet doesn't work in the warrant period, you get a free replacement or repairing of the faucet. So, a longer warranty is good.
Why Should You Use a Pre-Rinse Kitchen Faucet?
The pre-rinse faucet is built with strong and durable material that gives strength to the faucet to withstand prolonged hours of usage in any condition.
To perform heavy tasks, you need high water pressure. Even with low water pressure, the pre-rinse kitchen fixture gives high pressure.
This faucet is highly functional so it brings a great difference to the kitchen sink.
If you regularly host parties at home then this faucet will make your after-party cleaning work easy.
It has a high arc so it becomes easy to do cleaning tasks underneath the faucet.
Installation of the pre-rinse kitchen faucet is easy. By following instructions, anyone can install it.
Most pre-rinse faucets come with a spot-resistant finish. So, cleaning the faucet is no longer a boring task. Also, the finish of the faucet remains new for longer.
Its plastic nozzles come with a finger swipe cleaning feature. No lime or mineral build-ups are formed on nozzles.
How To Clean and Maintain Finish of The Pre-Rinse Kitchen Tap?
Like a normal faucet, a pre-rinse faucet also needs some cleaning so the finish of the faucet looks new. Regular cleaning increases the life of the finish. Also, cleaning removes all types of build-up from the faucet so chances of rust reduce.
What To Do?
Use only mild soap to clean the faucet.
For matter surface, after cleaning the faucet use liquid polish to enhance the finish shine.
After cleaning the faucet, clean it with a dry cloth.
Before using any cleaning product, read its instructions carefully. On some cleaning products, it is clearly written that don't use it on the shiny surface.
To remove hard deposits, use specialized cleaners.
What Not To Do?
Don't use any harsh chemicals to clean it. Harsh chemicals will damage the finish of the faucet.
Avoid scrubbing the surface of the faucet with a sponge.
Frequently Asked Questions
Do all Pre-Rinse Faucets Splash More?
Pre-rinse faucets have a high arc. If you have a small sink then a high arc causes splashes. So, sink and faucet sizes determine whether there are splashes or not.
What Is the Difference Between Pre-rinse and Pull-Down Kitchen Faucet?
The working of both faucets is the same. The design of pre-rinse and pull-down faucets is different. Pre-rinse faucets have a spiral hose over the arc whereas pull-down faucets have a rigid arc. Pre-rinse faucets have high water pressure.
Is Limited Lifetime Warranty Good?
In the limited lifetime warranty, some parts of the faucet are covered like leakage, faucet finish, etc. You get lifetime replacement assurance with this warranty.
What Is the Best Brand For Pre-Rinse Faucet?
Kraus has some cool and functional pre-rinse faucets. After Kraus, Kohler, and Hansgrohe offer some quality pre-rinse faucets.
Final Words
We hope that know you know what is a pre-rinse kitchen faucet. Everyone wants a durable and highly functional faucet for their kitchen. Pre-rinse faucets are good for them but due to their high price, everyone can't buy them. This guide has everything that you should know about the pre-rinse kitchen faucet. Consider all the information to select the right one for you.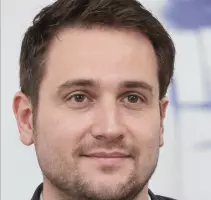 Hi, I am Ralph Matthews. I have been doing plumbing work for the last 20 years. I have created FaucetShowerGuide blog to share my plumbing experience with people. My main moto to create FaucetShowerGuide blog is to give the right guidance to my reader so they can select the best faucet and other products for the kitchen and bathroom.