When people plan to decorate their kitchen and bathroom, they spend lots of time finalizing the design but sometimes they ignore the most useful appliance in the kitchen and bathroom, which is the faucet.
The faucet deserves equal attention as other appliances. A right faucet enhances the beauty of the sink area, saves water, and reduces washing time. There are lots of best faucet brands for the kitchen and bathroom available but do you know their history and other details about them.
Which faucet brand is reliable? Which faucet brand is in the budget and do their products work for last? All you get to know in this article.
Best Faucet Brands For Kitchen And Bathroom
Moen
Moen is one of the best faucet brands in the USA market. Moen was founded in 1937 and it has a wide range of faucets. Pull-out, pull-down, touchless, voice-activated, commercial, and all other faucets are available.
AI Moen was the founder of the Moen company. Moen faucets are highly appreciated by its customers. Since starting, Moen is maintaining its quality. Its wide range of finishes creates endless choices of faucets for its customers.
Moen faucet model emphasizes the design and functionality of the faucet. Moen's faucets are environmentally sustainable.
All its products come with a minimum 5 years warranty. Moen faucets are lead-free and it is proven by many testing agencies. Moen has earned the trust of people by making hygienic faucets that are free from hazardous chemicals.
Moen faucets are built with to aim of making the life of people easy. Moen faucets are convenient, easy, and comfortable to use.
Moen is the leader of touchless faucets for the kitchen and bathroom. Its Motionsense technology is built with powerful sensors. Its sensor accurately judges the movement of the hand and makes easier-to-use touchless faucets.
Different spray modes feature makes washing easy. Its Powerclean feature facilities fast cleaning of dishes by generating a high-pressure water stream. The best part about the Powerclean feature is that it doesn't use more water to generate high pressure, so it saves water also.
Its VoiceIQ feature allows you to control faucets from anywhere in the kitchen. Just speak with the faucet and the water will be turned on or off. By giving a voice command faucet will dispense a specific amount of water in the pot.
Check Best Selling Moen Faucets on Amazon
Delta
Along with Moen, Delta is the market leader in the faucet industry in the USA. For every type of interior, they have faucets. They push bounders with their faucets. Delta has won more than 200 awards for design and technology in the last decade.
Delta has transitional, traditional and contemporary style faucets. With their innovative features, Delta faucets are the first choice of many customers. Apart from faucets, Delta also manufactures other kitchen accessories.
Delta's after-sales service is good and its customer-care executives are well-trained. They are well-knowledge and their fast response is good.
With a Delta faucet, you can complement or improve, your present look of the kitchen.
Each Delta faucet is designed to perform and lasts a lifetime in the kitchen. Its faucet design ensures guaranteed aesthetics. Each Delta faucet comes with a limited lifetime warranty and delta's customer service is rated top among all best faucet brands.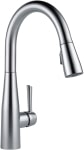 Check Best Selling Delta Faucet on Amazon
Kraus
Kraus offers more than 150+ faucet options. The specialty of the Kraus brand is that its faucets are built for home and commercial use. For commercial use, its faucets come with a pot filler and multiple spray modes.
Those who are finding the touchless option in Kraus, they will not get disappointed, they have also several options to choose from.
Kraus has stunning and opulent finishes. Kraus faucet can be considered a true value for money faucet for those who are looking for a faucet with long-lasting performance.
Kraus's head office is in New York. Its faucets are designed with a minimalistic aesthetic. Kraus faucets are designed for daily heavy use. Its urban style gives a sturdy look to the faucet.
Most faucet brands have high-arc commercial faucets but with its medium-arc design, Kraus has managed to make its appearance in the smaller kitchen where space is limited.
Kraus has designed numerous faucets that perfectly fit into medium and small-size kitchens.
Check Best Selling Kraus Faucet on Amazon
Kohler
The best thing about Kohler is that aside from the standard model, Kohler offers pot-fillers with some faucets. Kohler was founded in 1870 and since then it had a reputation as a kitchen faucet brand that builds excellent kitchen faucets.
Michael Kohler was the founder of the Kohler industry. It was started in Wisconsin, USA.
Most of the Kohler faucets are budget-friendly so they don't make much impact on your pocket. Although Kohler's main focus is to build low-price faucets, it has some good collections of expensive faucets.
Like others, it has also various finishes and designs for the kitchen and bathroom faucets. We are sure that you would get a perfect kitchen or bathroom faucet if you look at all its faucet collections.
Kohler is your best choice if you are finding a durable faucet in the budget price range. It got awards from some known marketing companies for its excellent faucet quality.
Kohler has so many styles to choose from for renovating or newly constructed kitchens. Kohler is one of those few companies that offers contemporary and post-look faucets at affordable prices.
Kraus faucets are easy to install and as well as simple to use. Installation instructions are easy to understand.
Kraus's replacement policy is good and easy. Free of charge they replace faulty parts of the faucet and in some conditions, they change the whole faucet.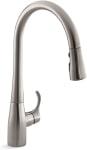 Check Best Selling Kohler Faucet on Amazon
Danze
If you are a modern faucet lover then the Danze faucet brand is for you. Danze has both classic and modern design faucets. Danze offers 6 different types of finish for its faucets. You get stainless steel, chrome, nickel, oil-rubbed bronze, black, and gold to choose from.
Danze faucets are both effective and comfortable. Installation of Danze faucets is simple and by reading the instruction guide you can install it yourself.
Its models are available in various attractive designs. Its design incorporates all types of kitchen interiors. Even the bathroom, incorporates some beautiful designs.
Danze is known for its high-quality and elegant designed faucet. Its faucets are designed to offer long-lasting performance so for years with its service, you can rely on them. Danze is an underrated faucet brand but its quality is amazing.
It is nearly difficult that any problem you face with the Danze faucet but if any unexpected problem happens due to a manufacturing fault, contact its customer support, and the company will repair or replace the faucet.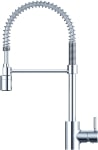 Check Best Selling Danze Faucet on Amazon
Pfister
Pfister offers contemporary design faucets. Most of the Pfister faucets are within the budget. Its faucet installation is not hard due to its comfortable design.
Pfister faucet brand gives head-to-head competition to other popular faucet brands.
Pfister is known as Price Pfister till 2010. Pfister was founded by William Pfister and mil price but now it is part of spectrum brand holdings. Along with the kitchen, Pfister also manufactures faucets for the bathroom.
Pfister faucets are beautiful and it adds sensuality to the water spray.
Pfister has an emotive design that makes the faucet visually appealing. Pfister faucets are as comfortable to use as other brands' faucets.
Pfister always comes with newer and innovative solutions for faucets. Its sustainable and efficient water-saving faucets can be installed in the place of any old faucets without doing much plumbing work.
Check Best Selling Pfister Faucet on Amazon
Grohe
Grohe is a German brand but its faucets are famous in the USA also. This brand is known for its well-designed faucets. Grohe faucets are sleek in the look. The futuristic design of the faucet gives them a modern look.
Each faucet has multiple options. From handle to touch, it has a wide range of faucets in its basket. All its faucets come with a 5-years warranty.
Its faucet has an appealing eye design that enhances the interior of any modern kitchen.
Grohe has a patented spray technology that is named Dream spray. It creates a refined spray that makes less noise and creates a smooth water spray. Its high-quality material makes sure that you don't face any leakage issues with the faucet.
Moreover, its water-saving feature saves water but doesn't reduce the water pressure. This technology is called Ecojoy technology.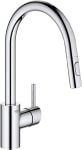 Check Best Selling Grohe Faucet on Amazon
American Standard
Since its beginning in 1875, American Standard has been making quality faucets for its consumers. In recent years, the American standard emerged as a leading company in the faucet industry.
Its bathroom faucets are more famous than kitchen faucets. By building quality faucets that stay last in the bathroom, American standard has won the trust of its customers. It continuously does experiments with the faucet's design.
Its manufacturers keep care of all the safety and water-saving criteria that a faucet needs to follow. It also follows the lead-free standard of the American government.
Both home and commercial faucets are the emphasis of this brand.
American standard not only produces faucets but also produces other accessories for the kitchen and bathroom. Among USA people, this faucet company is quite popular.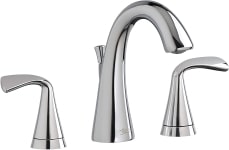 Check Best Selling American Standard Faucet on Amazon
Vigo
Vigo faucet brand is known for making faucets according to all user needs like high-quality, long-life, durability, and environment friendly. To give the best quality to the faucet, Vigo uses cutting-edge technologies to make their faucets.
Vigo faucets follow all the American laws for a faucet. From its more than 20 plated finishes you can choose one for yourself. With Vigo, you get 7 different types of handles to choose from.
Vigo faucets are designed to provide water-saving functions without reducing the pressure of the water. Its cutting-edge technology makes sure that it works perfectly in any condition. Most faucets come with a lifetime warranty.
Check Best Selling Vigo Faucet on Amazon
Gangang
Gangang faucet band offers a wide range of faucets that make it possible to meet all your needs for the bathroom faucet that you have in your mind.
Its lovely waterfall bathroom faucets are innovative and inclusion of the latest technologies. Its faucet gives an elegant look to the bathroom sink. Gangang faucets are dedicated to quality and performance.
Gangang faucets are a great choice for those who are willing to give a new look to their bathroom.
Despite having low prices, the Gangang faucet brand offers immense functionality with easy installation. The low price makes this faucet available for anyone. Gangang doesn't compromise any aspect of the faucet.
For any faucet brand, its customer service is important. Gangang always gives high priority to its customers and replace all the worn-out part of the faucet during the warranty period.
Good thing is that you don't need to take the help of a plumber to install it, just read installation instructions carefully and start installing it yourself.
Zurn
Zurn is dedicated to improving the daily life routine of its customers. With long manufacturing, innovation, and development experience, Zurn has changed people's perception of bathroom faucets.
Since its starting till today, this brand has developed itself so much. It has collected so many trophies and is known as a leader faucet brand. Its faucets are cleaner and give a healthy life to its customers.
Its faucets are the result of state-of-art engines. Zurn faucets are premium and durable so it is the choice of many hospitality services.
Speakmen
Speakmen faucets are designed to give a luxurious feel to the bathroom. Speakmen has a limited number of faucets for the bathroom. Quality-wise, its faucets are good and you won't feel that your money is wasted.
Speakmen focus on bathroom fixtures. Its long warranty period gives you peace of mind. Speakmen has dedicated customer care service and has good experience to handle customers' queries.
Speakmen bathroom faucets are not expensive and still come with some cool features. Most of its faucets use ceramic cartridges and Neoperl aerators that give leak-free life to the faucet.
Its durable faucets are designed to perform all functions easily.
Fontaine
Fontaine provides amazing faucets to its customers. Fontaine always pays attention to making safer and cleaner faucets so it can improve the life standard of its customers.
Its faucets are designed with the simple idea that they should benefit the current and future generations.
Fontaine is a reputable name in the faucet industry. Fontaine mainly focuses on the design, sustainability, quality, and technology of the faucet. When the final product is ready, you get the pure joy of water. It continuously improves itself so it can make better faucets.
Fresca
Fresca is a renowned faucet brand that has customers all over the world and mostly in the USA.
Fresca crafts authentic faucets for the kitchen and bathroom. Pfister faucets are a great example of beauty and each faucet represents the quality of Pfister.
Fresca faucet changes your daily washing habits through the power of its water pressure. Its innovations are good for daily life in the bathroom. Fresca closely read every review so it can understand what its customer needed.
Most Reliable Kitchen Faucet Brand
Delta
Delta is offered its service about a century ago. Delta was founded in 1919 by Herbert Tautz.
Due to its durable and long-lasting faucets, Delta has created an image of a reliable brand in the minds of the people. To maintain a reliable brand tag Delta always comes up with innovations.
You have lots of options to choose from its widest range of kitchen faucets. Pull-down, touchless, single-handle, and many more options are available. From traditional to a modern interior, the Delta faucet matches every kitchen interior.
Besides all features, Delta faucets are focused to offer you the beautiful home-friendly design of the faucet with the durability of commercial use.
Moen
Moen faucets have a minimalistic design that fits well with any interior and also its spot-free finish retains faucets to shine new forever.
Moen faucet is a combination of the latest functionality with an elegant look. Its faucets are capable to transform the look of your kitchen and bathroom.
Moen has a wide range of faucets so there will be something that suits your kitchen style. Moen faucets are good to add a flair to your kitchen. All these features make Moen a reliable faucet brand.
Kohler
In the last couple of years, Kohler's brand popularity is at its peak. All of this happened due to the durability and long-lasting performance of the faucet. As well as its design impresses anyone at first glance.
Kohler is known for making functionally aesthetic faucets. Dedication toward the quality and design of the faucet has been Kohler's main focus.
Kohler has worked hard to make its faucet brand reliable. Customers are satisfied with its faucets and also its excellent customer service improves its brand value.
Top Rated Faucet Brands
American Standard
American Standard faucet brand is known for its clever innovations in faucets. It uses high-brass material in its faucet so it can clean municipal water.
One of the most advanced faucets of American standards is the MeasureFill faucet. This faucet emits a selected volume of water.
It has a dial where you can set the volume of water and when you touch the faucet, the selected amount of water comes out. All faucet brands are working to save water and with the MeasureFill faucet, the American standard faucet is contributing from its side.
Kraus
Kraus is one of the best top-rated faucet brands for the kitchen and bathroom. This brand offers quality faucets at affordable prices. Kraus is famous for its plumbing accessories.
Kraus faucets are popular due to their unique design. Kraus has been consistently manufacturing highly durable faucets over years. Due to their top-quality performance in the budget, its faucets are rated highly by customers.
Its faucet quality gives them an edge over other faucet manufacturers. Its pull-down and pull-out faucet range are most loved by the customers.
Moen
Moen is another top-rated faucet brand. It makes an array of faucets. Moen is specialized to build faucets for bathrooms and kitchens. Moen faucets are available in every design. Moen has millions of customers so it becomes essential for Moen to manufacture faucets for every need.
Since starting, Moen is managing a balance of features and design. Its consistency is a major reason why Moen is a trusted faucet brand.
Spot resistance finish and MotionSense technologies are some notable features in Moen. Turn on or off the faucet without touching it.
Delta
Since the beginning, Delta has been in existence. For the kitchen and bathroom, Delta has been making many tools. Its faucets are versatile and functional for any type of kitchen.
Delta has emerged as a technology-friendly company that makes a great impact on the environment with its faucets. Its water-saving feature uses less water but doesn't compromise the water pressure.
Customer satisfaction is the top priority of this brand and to maintain it they never compromise on the quality and functionality of the faucet.
Quality Faucet Brands
Peerless
The ergonomic design of its faucets makes them comfortable to install and easy to use. This faucet brand is known for its budget faucets but its faucet quality will exceed your exception. Peerless faucet brand is devoted to making functional faucets.
Its faucet makes a striking appearance in the kitchen and bathroom. Peerless manages to keep the price of faucets low and make them available for all types of customers.
Peerless offers a limited lifetime warranty on all faucets. Its majority of faucets come in the kitchen category, for bathroom faucets, it has limited options.
Delta
Its faucet offers a dynamic plumbing experience. Delta faucet offers endless value to customers.
Its beautiful faucets bring luxury and peace to the kitchen area. It works silently without making any noise. Anti-lime nozzles create a soft water stream and are also easy to clean.
Delta uses state of an art manufacturing process to make their faucet convenient and comfortable to use.
Vigo
The sleek and modern look of the Vigo kitchen faucet is their main selling point. The performance of these faucets is awesome. It has 9 different finishes to pick from. Its spout rotates 360-degree for better reach to the sink.
In Vigo, you get pull-down faucets in the majority. Its high-arc design is good for the busy kitchen. Due to the high arc, its faucet looks modern and goes well with any modern kitchen interior.
Hansgrohe
Hansgrohe is a German faucet brand. Apart from faucets, it also manufactures other kitchen appliances.
Hansgrohe started as a small store in the local area now it is an internationally acclaimed faucet brand. It creates top-notch faucets that serve long in the bathroom and kitchen.
Hansgrohe aims to make an easier and healthier life with its products. When you install a Hansgrohe faucet in the kitchen or bathroom, it elevates the overall appeal of that area. Its modern aesthetic design gives a modern touch to the sink area.
Kingston Brass
Kingstone brass is another quality faucet brand that covers a wide range of kitchen and bathroom fixtures. When you think to choose a Kingston brass faucet, you get plenty of options to choose from.
It has every style of faucet. Bridge faucets, wall-mount faucets, widespread faucets, centerset faucets all collections are available. You get all the familiar faucet options here.
High-end Faucet Brands
Delta
Delta has managed to get the best rating for high-end faucet brands. Its voice-activated and app control features make it a top contender for high-end faucets. Delta has one of the largest collections of faucets.
Its plumbing innovations make life easy. Delta faucets transform the life of the people by saving their time in the kitchen. Its offers the latest plumbing technologies in its faucets. People trust Delta more than other faucet brands.
Delta is known for using quality materials so you get a leak-free, rust-free faucet with long life. Its flawless functionality makes faucet use easy.
Moen
Any faucet is considered a high-end faucet if it is built with the latest technology. Moen's Motionsense, Magnetix, and PowerClean technologies make it a high-end kitchen faucet brand. People can rely on any Moen faucet because of its outstanding performance with durable quality.
Moen has no shortage of awards. Many acclaimed organizations have given the prestigious award to the Moen.
Additionally, with its hundred years of experience, Moen is making high-end faucets with innovative design and features. With its performance, Moen wins the hearts of its customers.
Hansgrohe
Hansgrohe is providing high-end faucets with cutting-edge technology. Hansgrohe is known as the most elegant faucet company.
Artistic flair design and sturdy material in each faucet bring them as close to perfection as possible. It uses advanced technology that brings innovation to the kitchen and bathroom sink.
Its bold design gives a sense of elegance to the sink area. Its faucets are designed with keeping the latest functionality in the mind. It has a huge range of faucet finishes. With every passing year, Hansgrohe is gaining more and more popularity.
Kohler
Kohler is one of those brands that is recommended by people due to its full metal body. Kohler's name is popular all over the world it provides outstanding faucets for home and commercial use.
Want a convenient faucet for use and installation, choose Kohler. From its vast collection, it won't be difficult to choose a perfect faucet for your kitchen. Every faucet has a modern design that looks breath-taking.
Symmons
Symmons has raised the faucet industry standard by making high-end faucets. Symmons faucets are built with the latest technology innovations.
If you are finding high-end faucets with beautiful designs then consider Symmons faucet. Its ergonomic design offers you to perform everyday kitchen tasks more efficiently. For homeowners, Symmons has various options.
Symmons faucets are made with solid brass so they are not among those faucet brands which last in the sink for a few months only. Its finishes are specially protected with water-resistant features so the faucet body remains tarnish and corrosion-free.
Expensive Faucet Brands
Hansgrohe
Hansgrohe is positioned top of the expensive faucet list. Its high-end design with high-tech features gives a true expensive feel to the faucet.
Its smart feature allows you to set water temperature and volume so with the voice you can dispense the required amount of water. It comes with an LED indicator that shows the temperature of the water. Hansgrohe brand is considered an expensive faucet brand but its faucets are worthy.
Blanco
Blanco offers a wide range of expensive faucets. Blanco has a good range of bar faucets. Its expensive faucets come with all the latest technologies. Some faucet comes with a side soap dispenser.
The quality of the faucet material is good and it won't tarnish in a few years. The solid brass body remains new for years. Its finishes are also spot-free so less time is needed to keep them clean after washing.
One good thing about the Blanco faucet is that it comes with a silicone nozzle. Silicon nozzle is easy to clean and any hard water build-up won't stay on it.
Premier
Premier has beautiful, reliable, and high-performing faucets. Its faucets can be used anywhere from home to commercial use.
Its faucet represents 80-years of hard work for its company. All the latest innovations are incorporated into its faucets.
Premier faucet brand is not only prominent in the market but only it is one of the highest-quality faucets. In the last few years, this faucet brand has dramatically risen. Some faucets are priced at more than $500 but their price is justified by their features.
Brizo
Brizo is an expensive faucet brand. Brizo is a subsidiary of Delta faucet. Where Delta faucets are designed for budget-oriented people, Brizo faucets are designed for those who don't have any price barriers and want a premium look with all the latest features.
Brizo faucets come with high-tech features like voice-activated. Brizo also offers control of faucets through the app. Small families don't need these features. This faucet brand is specially built for modern house owners who love futuristic things in their houses.
Brizo faucets can be operated through voice commands. Like Delta and Moen, Brizo faucet also works with VoiceIQ technology. To use its voice feature, connect it with any voice-activated assistant and you are ready to give voice commands to it.
Budget Faucet Brands
WEWE
For those, who are searching for an entry-level faucet with good quality, believe us WEWE faucet won't disappoint you. Its faucets are one of the most affordable faucets on the market.
With its low-price faucet, you can upgrade your sink area without breaking the bank. Despite the low price, its faucet collection is not limited. You get all types of faucets like pull-down, pull-out, touchless, touch-activated, and more.
Good thing is that there is no dearth of finishes.
OWOFAN
One of the major reasons for the rising popularity of this brand in the last few years is that it offers faucets at a lower price but without cutting its features.
Today OWOFAN is producing well-designed faucets for the kitchen and bathroom but its main focus is on the kitchen faucet. Its classical finish makes them attractive and its high-quality brass body makes them durable.
It perfectly balances water pressure and saves water. OWOFAN provides great and unique designs for the faucet.
Glacier Bay
Glacier bay is a budget-friendly faucet brand. Under $100, lots of models are popular. In the budget range, it also offers touchless features.
The company has full trust in their faucets so they offer a longer warranty on their faucet. Its faucet is built with FastMount technology which reduces the installation time of the faucet.
glacier bay faucets are built with high-quality material for longer life. Whatever style you need it has. Pull-down, pull-out, high-arc, widespread, single-hole, three-hole, and more types of faucets are available.
Forious
Forious is known for making environmentally faucets in the USA. Brizo designed faucets for both the kitchen and bathroom. Along with faucets, the bathroom, it has shower collections also.
The forious faucet looks different from all other faucet brands because its faucets are handcrafted. Due to precious monitoring, every faucet looks stylish and unique.
Unlike other faucets, the Forious handcraft collection is not available in any online store. To buy these top-quality faucets, you need to go to Forious's exclusive store in your city. To give a premium look to the kitchen, Forious is a great choice.
Rohl
Whatever is your kitchen interior, you would get a perfect matching finish. A finish that you will not get in other brands, you will get in Rohl faucet. Tuscan Brass, English gold, black with gold accents, these unique finishes you would only get in Rohl faucet.
It has specially designed faucets for the bar area. This brand specially serves its presence in the USA. High or low arc, pull-out, or pull-down every faucet option you would get in Rohl faucet collections.
FAQ About Best Faucet Brands
What Is The Best Brand of Kitchen Faucets?
Delta is the best faucet brand for the kitchen. Its faucets are not only durable but also come at an affordable price. Delta is a highly-repeated company for manufacturing faucets.
Who Makes The Highest Quality Kitchen Faucets?
Moen makes the highest quality kitchen faucets. Due to its faucet quality, faucets work longer in the kitchen. To get a good quality faucet, you need to spend a little bit extra.
What Brand of Faucets Do Plumbers Recommend?
Both Delta and Moen are plumbers' recommend brands for faucets. They are trustworthy and can be used for home and commercial use.
Final words
So, these are all the best faucet brands that are reliable, functional, durable, convenient to use, and easy to install. We have given details about each brand in this article so it would become easy for you to decide which faucet brand is best. In our opinion, Delta and Moen are the best faucet brands for the kitchen and bathroom. All brands make good faucets and it depends on your requirements that what you needed.